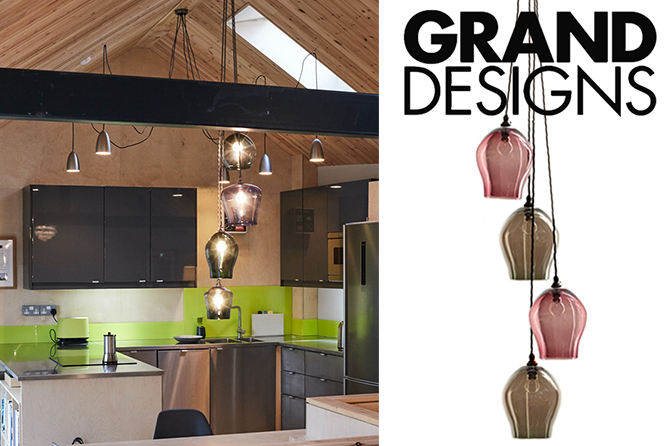 It was thrilling to spot a bespoke 4-drop Pendant Cluster in the 23 October 2019 airing of Grand Designs earlier this month. We have had people visiting us at our Wirksworth studio after the show asking about this, so we know that we aren't the only ones to have spotted this!
The interior design of this open plan living space concentrates on a muted colour palette with injections of colour that unify the space. The chandelier design featured is made up of four different shades from our Classic Pendants range. Featured is a Medium Classic Round in Slate Grey, a Medium Classic Teardrop in Slate Grey, a Medium Classic Traditional in Indigo and a Small Classic Traditional in Slate Grey. They cascade down from the apex of the ceiling suspended on a single 120mm ceiling rose in wonderful balance, creating a central focal point over the dining table to unify the space.
We have worked with many interior designers and stylists on residential projects installing our bespoke chandeliers in wonderful double height spaces like this one featured here and down stairwells and in atriums. If you have a project in mind that you would like to discuss, get in touch with our design team who will be able to advise you. Call on +44(0) 1629 826284 or email us on studio@curiousa.co.uk for more details.
You can download our new brochure to see our full range, or take a look at our range right here on the website.