The 25 Beautiful Homes Magazine showcases beautiful British interiors each month and the Malthouse, home to Curiousa & Curiousa's Esther and husband Paul, was featured in the August issue.
Esther's eye for vintage pieces have helped her to transform this former studio space into a colourful, bright and airy space. A former malthouse and originally bought as a studio for the Curiousa & Curiousa team, the ground floor is also the home to the Northern Light Cinema owned by the couple. Its long history as a working building and its many guises over the years during its working life has given this building a quirky layout. Rather than being a challenge, it became the ideal opportunity to lay out the interior as an open plan space.
The couple created an open plan living, dining, kitchen and office space with two bedrooms, using glass wall partitions to divide the rooms. They have managed to retain a wealth of original features including the beautiful old beams and the original floor. Furnished with an eclectic mix of vintage and modern furnishings, the resulting décor has come together organically and as a natural result of living with the space since Esther and Paul moved into the property in 2017.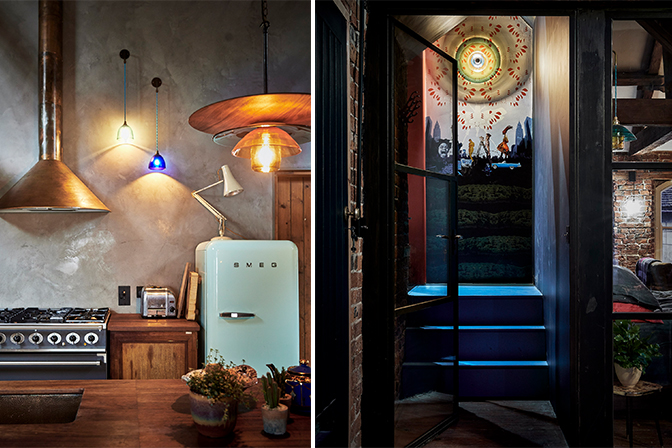 Naturally a number of Esther's glass pendant lights feature in the space including Ume silk lanterns that feature centrally in the living room area, and a large Lotus Dine Light over the kitchen bar.  There are also a pair of Japonica pendant wall lights hanging in the bedroom on the feature wall that has a vibrant wallpaper mural designed by Esther.
The full feature is on pages 58 to 63 of the August 2019 issue of 25 Beautiful Homes but here are some shots of the space for you to enjoy here on our blog!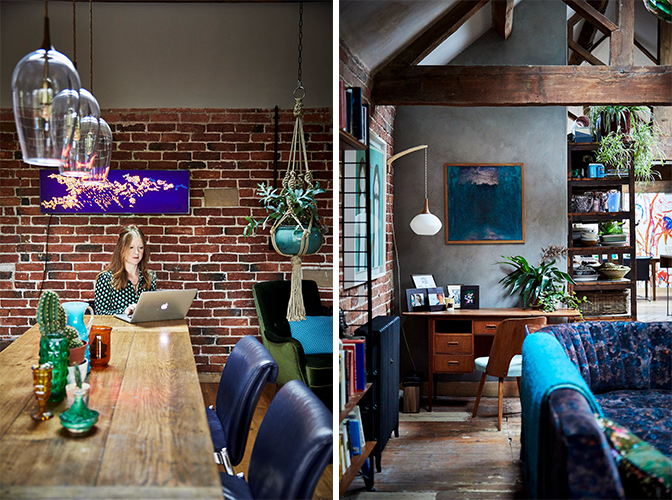 Photography by Dan Dulchars