SIMPLE AND EFFECTIVE: THREE OF A KIND

This is possibly the most classic and popular choice for kitchen island lighting, and it's not hard to see why. Three lights provide enough light to create a mood, but without creating too much visual clutter, and the single pendants can provide pops of colour while retaining elegant uniformity – a modest, sophisticated option. Here, the brighter the colour the bolder the statement, alternatively paler or more neutral colours can convey a more classic feel, such as the Large Slate Grey Traditionals, whereas the Large Rounds look really punchy in Sky Blue set against the off-white colour scheme.

LIGHTING FOR HIGH CEILINGS AND BIG SPACES


In spaces with very high ceilings, it can be good to break the space up a bit with a suspension bar, but that's not the only purpose it serves. Decorative lighting can often be left as an afterthought of the renovation process, leaving you to wonder how you're going to light the five pendant lights that you've fallen in love with, with only one electricity point in your ceiling. With a suspension bar, several pendants can be wired up to one point. The minimal fixtures can be a great solution to a sloped ceiling, and with the different colour and material options it can create a variety of looks, from 'industrial' Brushed Nickel, to sophisticated walnut wood or slick Chrome. If a suspension bar isn't your style, you could opt for a raft as an alternative.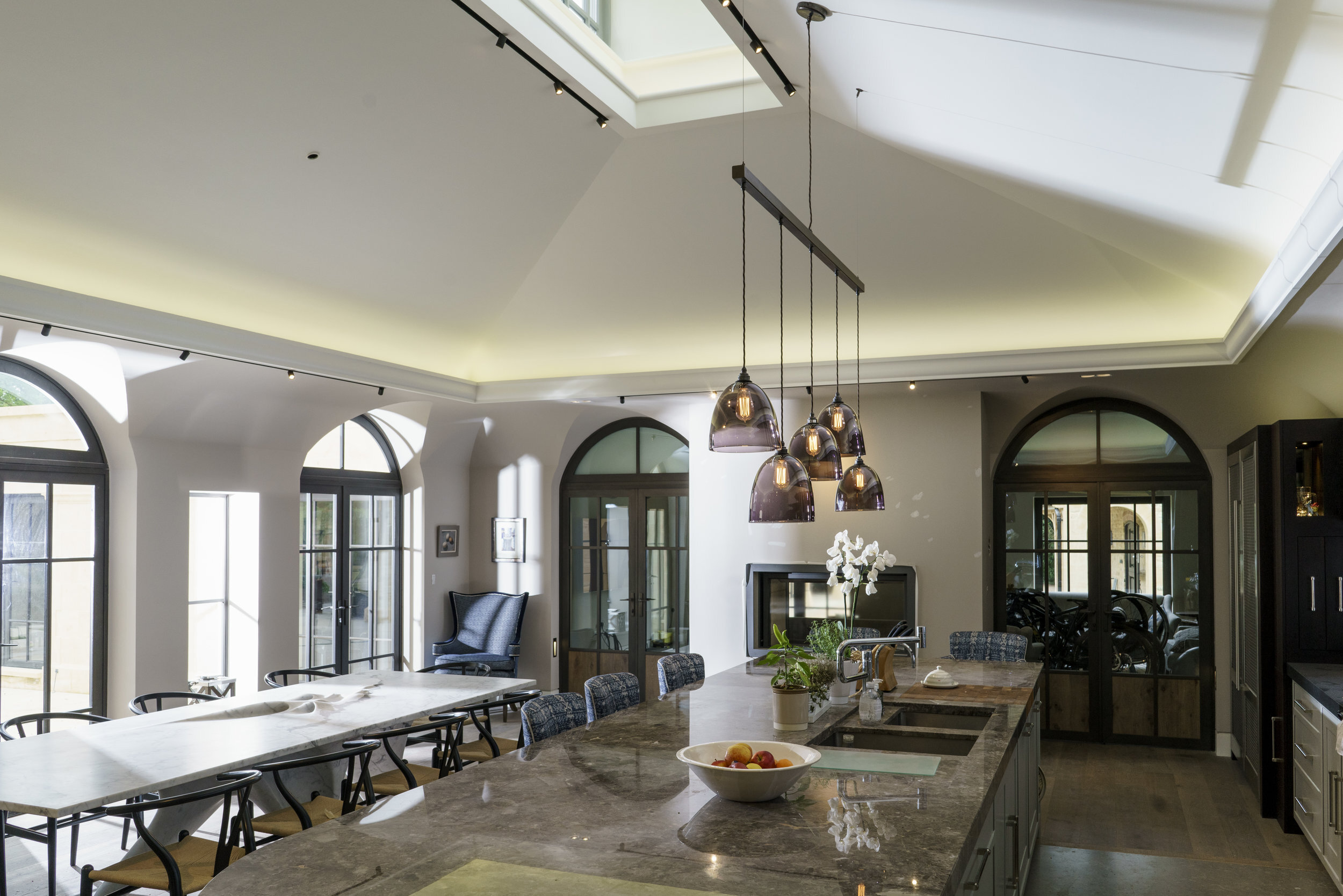 In this kitchen, the client opted for five Large Aubergine Bowls to hang over their large kitchen island. Another elegantly uniform choice, and with so many pendants the same colour and size, the risk of looking a bit 'stiff' is avoided by suspending them at varying heights, which also helps to add a bit of dynamism in such a big space.

HOW MUCH LIGHT? LIGHT LAYERING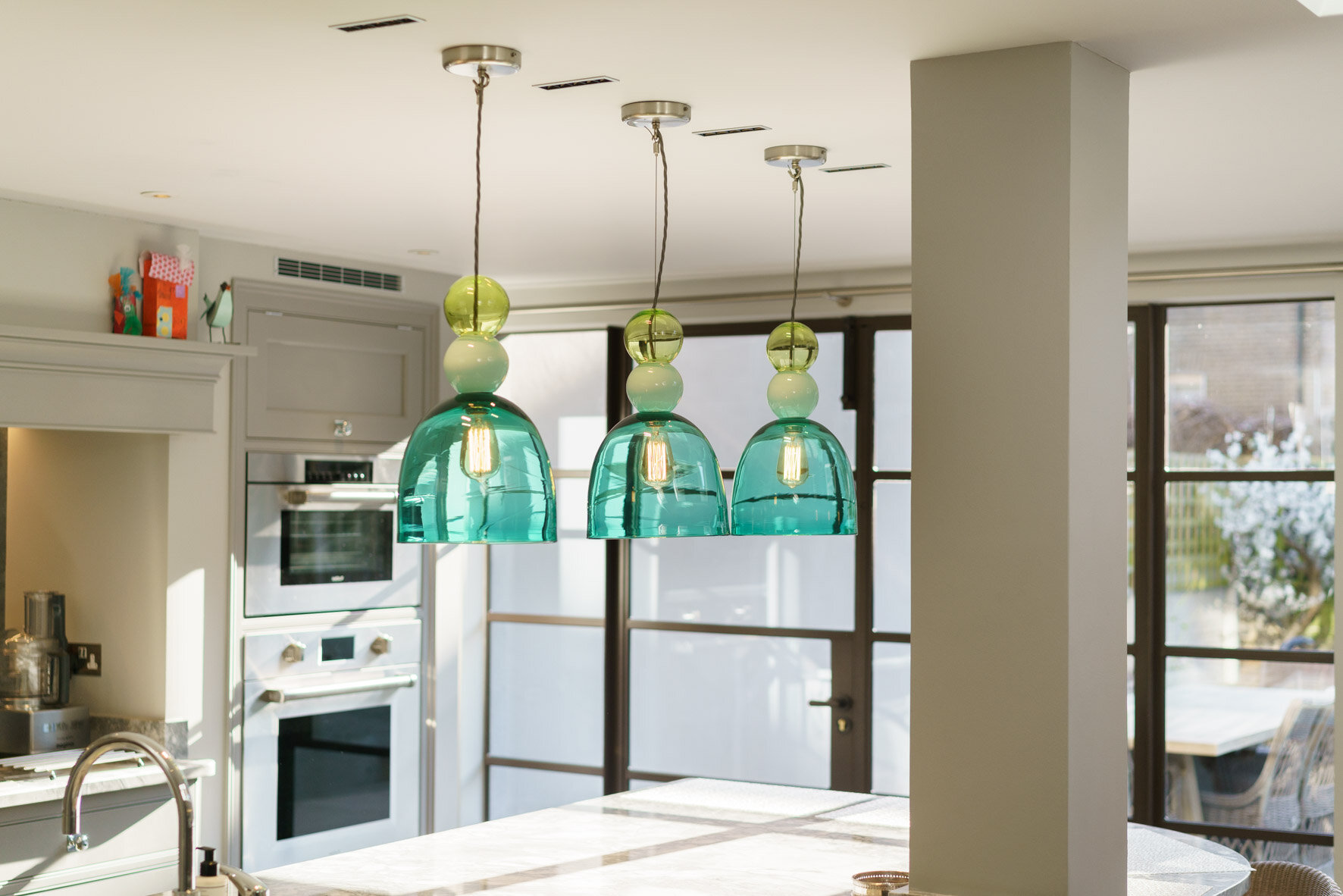 Ask any interior designer and they'll tell you the key to good kitchen lighting is layering. Although the decorative lights would like to take all the credit for lighting a room, your kitchen lights should be made up of a combination of lighting: task, ambient, and decorative. In this example LED task lights have been positioned between the decorative lights, allowing the decorative lights to create the mood, and the task lights to light the island. Regarding lumens and brightness, there's lots of great advice on the John Cullen website to help you decide how to create your desired level of brightness.
These lights are a take on our original Oshka design, with an extra Globe added to the top. With all lights being handmade to order, we can work with clients to make your design an original, which takes us on to our next point…
In the day and age when kitchens are used for so much more than just cooking, you might consider putting something a bit more dramatic above your kitchen island, such as these trios of sculptural stacks, after all, kitchens are often the most popular room in a party. The first kitchen pictured here is a little special, as not only is it a show kitchen by Martin Moore, but it is also used as the setting for cookery masterclasses with top chefs, and there a bit of pizzazz is very welcome. If you are planning on doing something fabulous in your kitchen, you might want to opt for equally fabulous lighting to match. It all depends how you are planning to use it.
As with all lights you need to consider ceiling strength, but the bigger and more dramatic your lights are, the more weight they need to support, making sure the lights are fixed to a wooden joist above the ceiling is essential. If your joists aren't in the right place, you can ask your builder to install one for you. We give one metre of flex as standard, but you can have more or less – as a general rule for kitchen island lighting, you should aim for about 30-36 inches above the counter, that's about eye-height.
We've talked about Lumens affecting the brightness lights, but the colour temperature of the bulb is just as important to the mood of a room. If you're going for a bright white colour scheme, you should aim for about 3000 Kelvin, but warmer colour schemes can suit a softer colour temperature, of around 2700k, or below. With our lights we advise a warmer vintage style bulb, but with our more modern designs such as the Cordero, a G4 daylight bulb is a more suitable choice. See our bulb options here.
If you'd like to see more of our lighting projects, take a look at our projects page or gallery, or click here to contact us.
Photography: Top, Darren Chung, all others Chris Webb Photography (c) www.chriswebphotography.com